Travel information Thailand
Click HERE for your Thailand guide
Thai language
A few Thai words , to help you get around more easy .
Goodday, hello : sawadee khap Thank you : khap koen khap How are you ? : sabai dee mai Very good, thank you : sabai dee How much it costs? : tao lai To expensive : peng pai Delicious : aloi Spicy : phet Beautifull : soewai Fast : lewlew Slowly : tsjatsja Really : tjingtjing Warm : lhon Cold : nou Rain : kwon tok I dont know : meiloe Drunk : mao Home : baan Room : hong Sleep : non Dinner : kin kaw .
Thai TV
Travel information
Its very easy to get around in Thailand .
Everywhere you can find cheap Guesthouses , starting rates from about 600 baht , about 15 dollar you will have a fine room with aircon, tv, bathroom .
Bargening is normal in Thailand , even for rooms and sightseeing offers. Everywhere you will found small travelagencys, its very easy to book a trip in the area where you are staying, so my advice is , just book a plane ticket and arrange what you want at the spot .
China airlines has a daily route from Amsterdam to Bangkok. If you need a Visa depence on what country you are from, Check the site of the embassy to be sure what You need . Thai people are very friendly , and are allways willing to help you . They very much apriciate it when you try to speak a bit Thai . .

Thai food
Everywhere you are in Thailand you can buy Thai food from streetvenders . The quality is very good and its taste delicious and its very cheap. For about 60 baht you have a complete meal.
Thai food is very spicy , so becarefull what you choose. When it is to spicy , dont drink water , but put some sugar in your mouth, it works well.
Vieuw Here a movie about Thai streetfood.
Thai money
The currency in Thailand is the Thai Baht,the symbol is '฿' of 'THB'. Daily exchange rates you can find in the left column.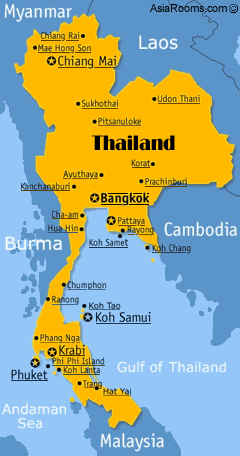 Pictures of Thailand

Click on a picture for a larger image
.